Yoast is one of the best known SEO plugins for WordPress and has been providing search engine optimization features for many years.
But it isn't the only show in town. While it may have the highest profile, it isn't your only option.
If you're looking for an alternative to the Yoast SEO plugin, you're in the right place!
We have taken 8 alternatives to Yoast SEO. We have tried them, tested them and put them through their paces.
So how do they stack up against Yoast?
What Is the Yoast SEO Plugin?
The Yoast SEO Plugin is a very competent free and premium plugin for WordPress that gets you started on the road to search engine ranking.
It is apparently used by over 5 million WordPress websites and has been steadily improved since its release back in 2010.
SEO plugins are a great starting point for new businesses or websites that want to begin building a search engine presence but don't want to go all in with an SEO agency.
Think of Yoast and any SEO plugin as the basic building blocks of SEO. They provide enough functionality to get you started and to rank a few pages before it comes time to engage the services of a professional.
Yoast is a feature-rich plugin with both a free version and a premium option. The free version is enough to get your website ranked and cover basic SEO needs.
The premium adds extra features like the ability to target multiple keywords, readability checks, snippets and other useful features.
Want to learn more about SEO for WordPress? Our post 'WordPress SEO: From Start to Finish (The Ultimate Guide)' has everything you need to know!
Why Do You Need to Find an Alternative to Yoast SEO?
To be fair, you don't need to find an alternative to Yoast SEO. However, it's good to have choice and while Yoast is very good, it isn't the only SEO plugin for WordPress.
Some alternatives are easier to get to grips with for new users. Some have a better interface, while others emphasize speed or features.
Like most things in life, you'll likely find one plugin suits your needs and your tastes better than another.
Plus, the company has just been sold to Newfold Digital.
Newfold Digital also owns HostGator, Domain.com, Network Solutions and a number of other companies. So, while you may not recognize the name, you'll know at least some of their brands.
This news may not be a bad thing, but any acquisition of any business involves change of one kind or another.
Looking for a more in-depth comparison of SEO-related plugins? Check out 'The Must-Have WordPress SEO Plugins For 2021'
The 8 Best Alternatives to Yoast SEO Plugin
So, without further delay, let's get to those alternatives to the Yoast SEO plugin.
Those alternatives include:
Rank Math
All in One SEO Pack
SEOPress
The SEO Framework
Premium SEO Pack
WP Meta SEO
SEOPressor
Squirrly SEO
| | | |
| --- | --- | --- |
| Plugin | Free version? | Price of premium |
| Rank Math | Yes | $59-$199 per year |
| All in One SEO Pack | Yes | $49.50-$299 per year |
| SEOPress | Yes | $39 per year |
| The SEO Framework | Yes | $7 – $27 per month |
| Premium SEO Pack | No | $44 |
| WP Meta SEO | Yes | $49 per year |
| SEOPressor | No | $9 per month |
| Squirrly SEO | No | $20.00-$75.00 per month |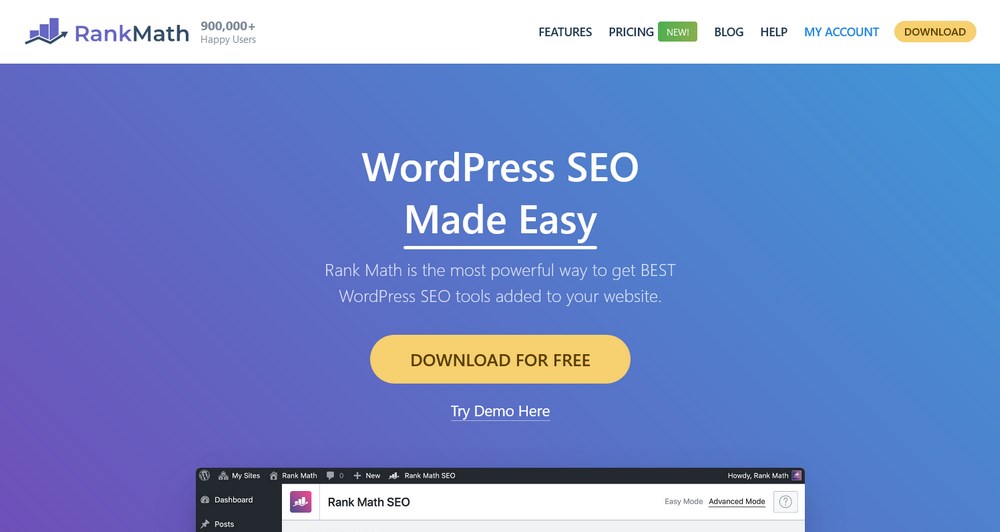 Rank Math is a very popular alternative to the Yoast SEO plugin. It has a free and a premium version, includes lots of features in both versions and uses a smart setup wizard that can automate many of those features as well as let you control them.
The look and feel of Rank Math seem intuitive and easy to use. We would recommend those new to WordPress or learning SEO to check out this plugin, as we found it simple to set up and the setup wizard took care of most basic settings.
Rank Math can even import settings from Yoast SEO. So, if you do decide to switch, the setup wizard can take all the good work you did with Yoast and continue using it. That's a nice touch!
Rank Math includes 404 monitoring, analytics, image SEO, local SEO, redirections, XML sitemaps, support for Google Web Stories, WooCommerce and more. All are accessible from a well-designed dashboard.
Features of Rank Math:
Intuitive interface that's easy to navigate
Smart setup wizard
Google Search Console integration
Custom title, description, meta and social media description options
Support for schema and rich snippets
Support for local SEO
Full support for WordPress blocks
Opinion of Rank Math
Rank Math is definitely an SEO plugin to try. The free version has a lot of features while the premium version offers a whole lot more. The dashboard is easy to read and to work with and comes with a very usable setup wizard.
Overall, we think Rank Math works well with WordPress and offers a wide range of features for users of every skill level.
Want an SEO-friendly theme to go with your SEO plugin?Get Started With Rank Math
All in One SEO Pack is another very popular alternative to Yoast SEO. It's a well-established WordPress plugin launched back in 2007 and is installed on over 2 million websites.
Where Rank Math is instantly approachable and intuitive to use, All in One SEO Pack takes a little more work. It seems to concentrate more on offering a wide array of features than helping beginners get acquainted. But, spend a little time with it and you'll soon get the hang of it.
All in One SEO Pack has a free version and four premium plans starting at $49. Each build on the features of the preceding pack as well as the number of websites you can use it on.
All in One SEO Pack supports Google News sitemaps, local SEO, smart XML sitemaps, rich snippets, RSS, social media, Video SEO, WooCommerce and more.
Features of All in One SEO Pack include:
Easy to install and to use
Supports Google Analytics and other tools
Built-in TruSEO Score On-Page Analysis provides insight of your optimization
Built in file editor for full control
Import and export SEO data for further analysis
Smart sitemap support
Supports optimization for WooCommerce stores
Opinion of All in One SEO Pack
All in One SEO Pack is a very competent SEO plugin for WordPress that does a lot right. It has a slightly higher learning curve than Rank Math but covers almost as many bases.
Once you get to grips with it, you have a lot of power to rank posts and pages in search engines with minimal effort. Well worth experimenting with! Get Started With All in One SEO
SEOPress is another viable alternative to Yoast and provides a full suite of features to WordPress users. It covers most of what you'll need to get your website ranked and wraps it up in an attractive, usable package.
SEOPress balances SEO analysis with features to deliver a well-rounded product. It's easy to use and to set up and has lots of tools to optimize your posts and pages as well as analyze their performance.
Of particular note is the ability to perform content analysis within SEOPress. While available in Yoast, you can only use a single keyword in the free version, whereas with SEOPress, you can use unlimited keywords.
SEOPress also supports titles, meta descriptions, social media descriptions, XML sitemaps, Google Analytics, structured data, content analysis and a whole lot more.
Features of SEOPress:
Intuitive interface with a logical layout
Supports titles, descriptions, social media descriptions and meta
Google Analytics integration
Content analysis with unlimited keywords
Ability to enable and disable features to keep it lean
Structure data support including news, reviews and recipes
Local SEO support
Opinion of SEOPress
SEOPress gets a lot of things right. It's easy to use, suitable for beginners to WordPress and provides a simple, intuitive dashboard. The ability to perform content analysis is also useful, especially as you don't have to pay to use more than one keyword.
Overall, we think SEOPress is well worth trying if you're more interested in the analysis side of things or if you like the look and feel of the design.Get Started With SEOPress
The SEO Framework is another SEO plugin for WordPress that works as an alternative to Yoast. It's lightweight, suitable for beginners and more advanced users and delivers a strong suite of tools.
The main strength of The SEO Framework is that it installs with usable default settings. In theory, if you're just launching a WordPress website or blog, you can install the plugin, follow the setup wizard and leave it at that.
If you want to make changes, customize certain settings or get more into analysis, you can do that via the dashboard. It can even automatically generate titles and descriptions using a form of AI!
The SEO Framework includes tools for titles, descriptions and metadata, supports social media, all kinds of structured data, keyword analysis, SEO attack protection, Facebook Pixel and lots more.
Features of The SEO Framework:
Simple and very easy to use
Default settings allows fire and forget installation
Advanced tools readily accessible if required
AI features provide some automation
Includes monitoring of performance and uptime
SEO attack prevention
Caching tools built in
Opinion of The SEO Framework
The SEO Framework is a strong contender for a Yoast alternative. It provides most features Yoast does but adds some more genuinely useful tools like automation and SEO attack prevention.
Plus, the free version offers most tools you'll need for a new website while premium plans add even more power. Get Started With The SEO Framework
Premium SEO Pack is another solid contender in our list of alternatives to the Yoast SEO plugin. There is a free and a premium version of the plugin, both offer a wide range of features suitable for beginners or more experienced WordPress users.
The dashboard is intuitive and easy to use but does require registration to Squirrly.co. This is a minor downside as you cannot skip registration. Once past registration, you'll see a well-designed dashboard with all the plugin's features accessible with a single click.
Those features include a backlink builder, Google Analytics tools, redirect tool, social media tools, file editor and a minify tool, among others. We wouldn't necessarily expect to see a minify tool in an SEO plugin but it's useful if you don't use a caching plugin.
Of particular note is the mass optimization tool. This allows you to optimize all your posts and pages in one hit, providing titles, descriptions and keywords. While useful for those just getting started, more established websites will want to optimize each page individually.
Features of Premium SEO Pack:
Attractive user dashboard
Mass optimization tool for titles, descriptions and keywords
Works with WordPress Multisite
SERP tracking module to monitor performance
Supports local SEO
W3C validator tool built in
Supports rich snippets
Opinion of Premium SEO Pack
Premium SEO Pack offers a range of SEO tools that can help beginners get ranked and assist established websites improve their performance. The free version is fairly limited but the premium options are reasonably priced. It's just a shame you have to register before you can use it.
We consider Premium SEO Pack to be an excellent alternative to Yoast SEO. It may not have as much going on as Rank Math or The SEO Framework, but what it does, it does very well. Get Started With Premium SEO Pack
WP Meta SEO is designed for complete beginners to SEO. It could be the ideal Yoast alternative for any WordPress user who doesn't know, or want to know, much about SEO while still ranking in search engines.
As soon as you install and activate WP Meta SEO, you get the option to perform an SEO audit. The plugin will scan your website and provide a full page breakdown of what needs attention in nice graphs.
From there, you can work your way through the list, fixing what needs fixing and leaving what's working. If you're in a hurry, WP Meta SEO has a similar mass optimization tool as Premium SEO Pack which makes short work of getting the SEO basics right.
Other tools include Google Search Console integration, image optimization, mass page optimization, image title and alt title tool, 404 and redirect tools, SEO reporting tool and WooCommerce support.
Features of WP Meta SEO:
Very user friendly
Smart SEO analysis tool with clear graphical layout
Google Search Console integration
Local SEO support
Yoast data migration tool
Image resizer, title and alt title tools
SEO reporting tools
Opinion of WP Meta SEO
WP Meta SEO is aimed at the WordPress beginner and is very accessible. The SEO audit tool is very good and easy to read, making it a pleasure to use. It's also genuinely useful and the ideal guide for anyone not familiar with SEO.
That audit tool, along with the flexible suite of SEO tools makes WP Meta SEO an excellent Yoast alternative. That's especially true if you don't know SEO or don't want to know about it. Get Started With WP Meta SEO
SEOPressor apparently powers more than 23 million websites. Once you spend a little time with it, you'll quickly see why. It's a very usable alternative to Yoast SEO and ideal for users of all levels.
SEOPressor is a premium-only SEO plugin for WordPress that costs $9 per month with no free version. Aside from that slight downside, it's a solid performer that's easy to use, comes with an intuitive dashboard with most settings just a click away.
The plugin offers to optimize your existing content using 3 keywords and then offers suggestions for future content. Once done, you can use the SemantiQ Engine to assess your website's semantic search quality before moving on to more traditional SEO tools.
Those tools include on page SEO analysis, crawler control, link manager, keyword analysis, redirect tools, schema markup tools and lots more.
Features of SEOPressor:
SEO site audit tools
Smart analysis dashboard that outlines everything
Existing content optimization tools
Content suggestions
SemantiQ Engine for semantic search
Support for rich snippets and schema
Smart Link Manager
Opinion of SEOPressor
SEOPressor is a very capable plugin that balances the needs of beginners with the needs of more experienced users. The audit tool and dashboard help beginners while the more advanced tools offer flexibility for those more into SEO. It's one tool for most users.
We think SEOPressor competes well with the Yoast plugin and exceeds it in some key areas. It may be premium only but it does deliver a lot for the money. Get Started With SEOPressor
Last, but certainly not least, is Squirrly SEO, another alternative to Yoast SEO. Like Premium SEO Pack, you need to register to use the plugin as it uses the cloud but otherwise, is a simple, effective SEO plugin for WordPress.
Once registered, Squirrly SEO will ask you if you want to import data from other SEO plugins. It will also perform an SEO analysis of your website. Once complete, you're presented with the main dashboard.
That dashboard is colorful and easy to use and shows how you perform in a range of metrics such as keyword use, traffic, robots.txt and other useful stuff. You can then use the audit as a guide to walk you through optimizing your website using traffic lights to know when you're done. It's very easy to follow!
Squirrly SEO has a free and premium version which can include a SERP checker, powerful audit tool, Google Analytics tracking, keyword tools, performance reports, rank tracking tools and a cool Live Assistant tool that appears in the post and page editor.
Features of Squirrly SEO:
Clever site audit tool
Intuitive traffic light system for most features
Live Assistant
Google Analytics integration
Automation tools for key tasks
Engaging 14-day SEO challenge within the plugin
Descriptive suggestions for improving SEO performance
Opinion of Squirrly SEO
Squirrly SEO is another plugin that effectively balances the needs of those new to WordPress with those of more experienced users. The audit and traffic light system makes it easy to see how your site is performing while the Live Assistant and reporting tools means you can always progress.
Squirrly SEO is definitely an alternative to Yoast and one we think worth exploring!Get Started With Squirrly SEO
The Best SEO WordPress Plugin That Isn't Yoast
As we said at the beginning, there's nothing wrong with Yoast and the sale of the company may be a positive thing. But WordPress is an ever-changing landscape where plugins come and go and tastes change.
That's why we are highlighting these alternatives to the Yoast SEO plugin. It isn't the only plugin of its kind and it isn't the best at everything it does.
Any of the 8 SEO plugins for WordPress within this list delivers the core SEO tools you need to get your website ranked. Each looks and works slightly differently but each gets the job done.
When it comes down to it, there are only a few areas where each differs and the decision will likely come down to personal choice.
Whatever you decide, if you choose one of these plugins, you won't be disappointed!
Do you use one of these alternatives to Yoast SEO? Have any others to suggest? Share your thoughts in the comments below!
source: https://wpastra.com/yoast-seo-alternative/